Customer satisfaction has been our main priority since the creation of our company. We therefore began the ISO 9001 certification process at a very early stage.
The company's management system was audited and deemed compliant with the requirements of the ISO 9001:2008 standard by "Bureau Veritas Certification" back in 2013. It was then renewed year after year until the last revision of the standard – the ISO 9001:2015 – which we also obtained. The last annual audit was successfully conducted on October 5, 2020.
This certification highlights the excellence of our know-how as well as our professionalism and skills and expresses our desire to implement and conduct a policy of continuous development.
Being certified ISO 9001: 2015 is the guarantee for our customers that our products and services are of the highest quality.
Over time, the implemented measures have enabled us to optimize the management of our stocks to better meet market demand, to increase the number of certifications and approvals for new products, to better communicate on the scope of our range and its relevance to our customers' needs, etc.
These constant efforts have led us to assume a leading position in our core business: Building joints and Passive Fire Protection.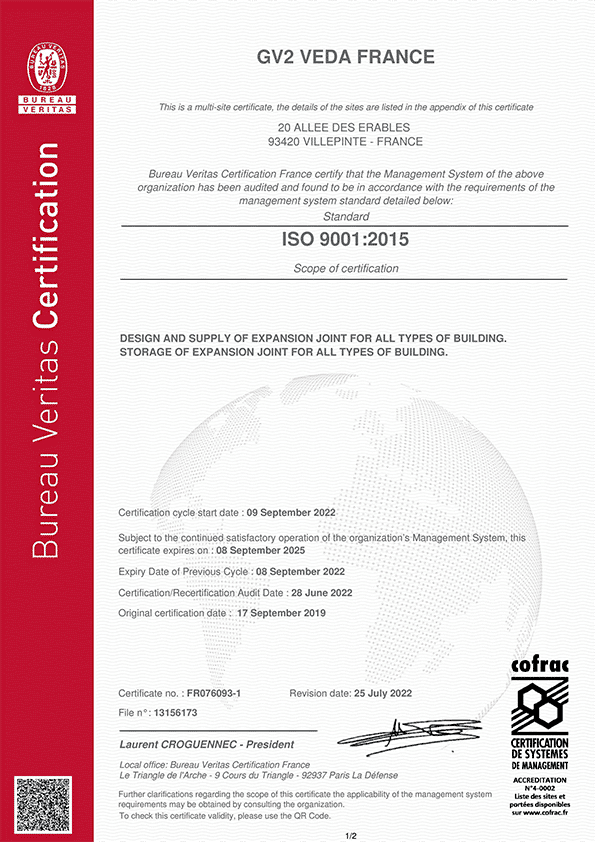 Do not hesitate to visit our website to have a better understanding of what we can offer and to discover our products and know-how.
We will be pleased to answer any questions.